MICROSOFT AZURE Build without boundaries and improve efficiencies with Azure solutions.
Microsoft Azure solutions give you the flexibility to create, manage and deploy applications anywhere. Now you can use your infrastructure – even your own data center and other clouds – to solve your business challenges.
Microsoft Azure is a cloud computing platform and a set of services offered by Microsoft for building, deploying, and managing applications and services through a global network of Microsoft-managed data centers. Azure provides a wide range of cloud-based services, including virtual machines, storage, databases, networking, analytics, artificial intelligence, and Internet of Things (IoT) services.
Infrastructure
Run your mission-critical applications on Azure for increased operational agility, flexibility and security.
Platform
Leverage more than 200 products and cloud services from the Azure cloud platform. Build, run and manage applications across multiple clouds, on-premises and at the edge – with the tools and frameworks of your choice.
Azure Internet of Things (IoT)
Azure solutions can help you integrate untapped data from the digital edge including connected devices, assets and sensors.
Azure AI Platform
Uncover difficult to discern insights from across all of your business data using artificial intelligence (AI).
Azure Analytics
Now you can transform any data into deeper, timely insights at enterprise scale, driving faster, more efficient decision making across your organization.
App Development
Azure helps you turn your ideas into reliable apps at scale and bring them to market faster with Azure solutions.
Migration Strategy
Save money and improve efficiency by having Technotrust Solutions migrate your workloads to Azure with proven tools and guidance.
Azure is a cloud computing platform and service offered by Microsoft that provides a wide range of benefits to its users, including: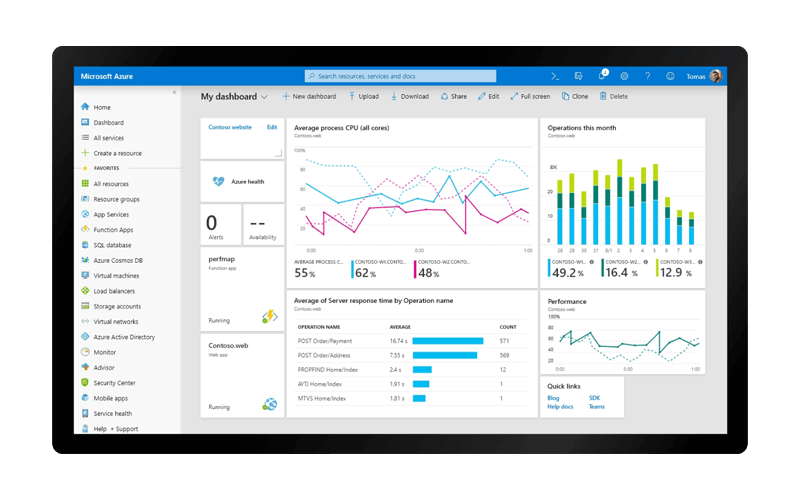 Scalability: Azure allows users to easily scale their resources up or down based on their changing needs. This makes it easier to handle traffic spikes and accommodate growth.
Flexibility: Azure offers a range of tools and services that can be tailored to meet the specific needs of different businesses and industries.
Security: Azure has a range of built-in security features, such as firewalls, encryption, and access controls, that help to protect your data and applications.
Cost savings: Azure offers a pay-as-you-go pricing model, which means that you only pay for the resources you use. This can help to reduce costs and eliminate the need for large upfront investments in hardware and infrastructure.
Global presence: Azure has data centers located all over the world, which allows users to easily deploy and manage their applications in different regions.
Integration: Azure integrates well with other Microsoft products and services, such as Office 365 and Dynamics 365,
Azure offers a range of services, including infrastructure as a service (IaaS), platform as a service (PaaS), and software as a service (SaaS). It also provides a variety of tools for developers and IT professionals to manage and monitor their applications and services in the cloud.
Some of the key features of Azure include its scalability, security, and flexibility. It is available in more than 60 regions around the world and supports a variety of programming languages, frameworks, and tools, making it a popular choice for developers and businesses of all sizes.